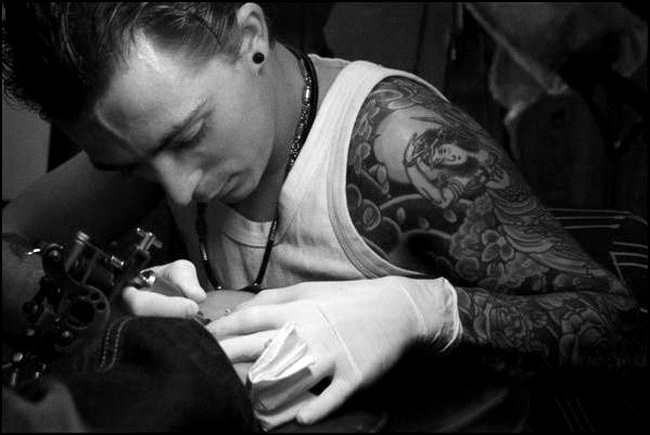 Make an appointment? It goes like this!
Every Friday of the week you can schedule an appointment: visit our shop between 12.00 and 20.00 at the Hoogstraat 73A or call on Friday to +31 (0) 40 24 68 090. It is nice if you can bring an example or clear description (eg, Polynesian or Celtic) when we welcome you in our shop. You can also send an e-mail with a description and/or picture of your tattoo to jim@jimorie.com.

Jim makes unique tattoos which are always drawn by hand. Tattooing your new tattoo will take an hour or several hours. However: larger tattoos usually takes a little longer so it may happen that you need two or three appointments. This you will always hear in advance. Scheduling the appointment can only Friday but the actual appointment can be scheduled on every day of the week.

Are you interested and do you want to schedule an appointment? Than we will always ask for a deposit. You need to pay this deposit in the shop or via PayPal if you contact us by phone. As your new tattoo is very personal, we also want personal contact. That's the reason why we do not communicate our prices on our website or via email. This is to avoid misunderstandings.

See you at Lighttown Tattoo!


Shop:

Hoogstraat 73A
Eindhoven
The Netherlands

+31 (0)40 24 68 090
e-mail: jim@jimorie.com

Open:

Friday:
12.00 - 20.00

Appointment only:
e-mail: jim@jimorie.com

Connect: