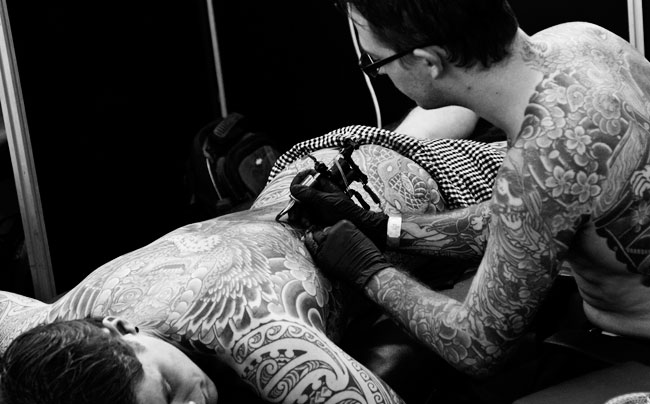 About Jim Orie
Jim Orie grew up in the tattoo shop of his father, Greg Orie . With such a famous and renowned tattoo artist as a father, Jim's future was already clear: he would become a tattoo artist. Jim began his career behind the counter of 'Dragon Tattoo' in Eindhoven. In the period that he works as a 'Floor Manager' and ' Piercer ', Jim's interest increases day by day. He also visits many tattoo conventions and shows, where he meets new styles and artists.

At 'Dragon Tattoo' he is surrounded by the best tattoo artists in the country including Rob Deut and Jeroen Franken . With the necessary inspiration in his mind, he starts with his first drawings in ethnic tribal style under the watchful eyes of his father. It's a cliché but practice makes perfect. With 12 years of experience, Jim has now become a respected tattoo artist. And he's also a really nice guy as well.


Jim's style
Jim Orie specializes in 'symbolic black work' . The inspiration for his work will include the ethnic tribal styles Marquesan , Polynesian , Samoan and Maori. In addition, his work is always accompanied with infinite respect for the traditions of these ancient cultures . For Jim's it is important that the design of the tattoo is in line with the shape of the human body or specific body part. Although Jim's style is unique, your personal wishes and ideas serve as a basis for your new tattoo . So at the end of the day you will leave the shop with a big smile on your face!


Jim's shop
Grateful for his time at 'Dragon Tattoo', Jim knew it was time for a new challenge: his own tattoo shop . "I like to make people happy," Jim said. With this motto in mind , he and his friends started rebuilding the shop like mad men. The results are very impressive! The semi- closed shop became reality in July 2013. Make a appointment and Jim will open the doors of his shop. Are you interested in a unique tattoo with a symbolic value? Or you just want a cool design tattooed on your body? Please contact Jim.


Author: Frank Jochems
Creative Communication,
Eindhoven 06-02-2014.
Shop:

Hoogstraat 73A
Eindhoven
The Netherlands

+31 (0)40 24 68 090
e-mail: jim@jimorie.com

Open:

Friday:
12.00 - 20.00

Appointment only:
e-mail: jim@jimorie.com

Connect: